Important safety notice and recall for NX700 1st stage
If you own NX700 regulator, please
stop using it immediately and carefully read the message below.
For the information in other languages, please follow this link (PDF will open):

What is it about?
NX700 scuba breathing regulators are made in Italy by a manufacturer with many years of experience in this type of product. Before market launch, they have been extensively tested during many months of rigorous tests in extremely demanding conditions.
Unfortunately, during standard yearly maintenance of the NX700 1st stages, in few cases, we have detected traces of above-standard signs of the wear of the membrane. We have not detected nor received any notifications about any actual failure or abnormalities caused by the wear. Nevertheless, we have decided to update all NX700 first stages to the newest available version, where any chances of the mentioned abnormalities have been completely eliminated.
Important: Even though we have not detected nor received any notifications about any failures or abnormalities caused by the over extensive use of the membrane, this part's even remotely possible damage could lead to severe consequences in the form of free-flowing 2nd stage or increased breathing effort to the point of breathing becoming impossible. For these reasons, please
do not use your regulator unit until it's serviced
by the authorized service technician indicated by us or by us.
All NX700 1st stages manufactured between May 2019 and November 2021 are subject to this maintenance recall. The manufacturing date is clearly indicated above the LP port on the unit's body. The first four digits identify the year and month of manufacturing (e.g., 1905 means May 2019) If your regulator has been manufactured before 11.2021, immediately stop using it and contact your dealer, where you have purchased your unit or us directly.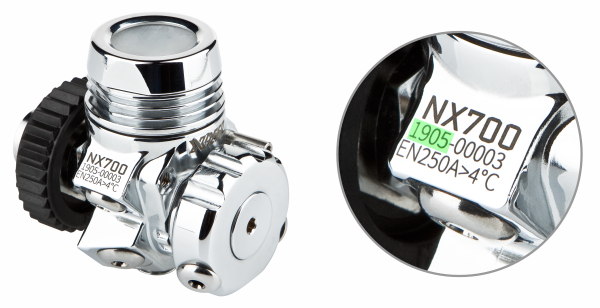 What we are going to do:
First, you need to register your unit/s in this online form and await further instructions from your dealer or directly from us. When we receive your NX700 first stage, it will undergo a free, full periodic maintenance service and the body of the dry chamber body will be exchanged to a new updated version.
This service will be performed by our designated regional service centers or at our own facilities in Europe. Due to logistical reasons as well as the time required for shipments, the total service and return delivery time will be 6-12 weeks, depending on the exact location. The maintenance will be performed free of charge.
How to proceed?
If you own NX700 1st stage, please fill out the form below.
Give us about a week to return with the information how to proceed with the shipment. Every customer will be informed by email.
Follow the instructions in the email you get from us.
If you own more than one unit of regulators that qualify for the update, you can add them to the "regulator data" category in the form below.
Additional information
To compensate the inconvenience caused to our clients, we have decided that every NX700 set owner will get a free XDEEP Signature Hoodie in the chosen size and color (black or grey). You can choose your preferred color and size in the online registration form below.
The data you are providing in this form will be used solely for the purpose of this maintenance recall. We will not be sending you any other unrelated messages.
If you have any further questions, please get in touch with support@xdeep.pl for assistance.